.
A Recent Getty Digital Resources Announcement
(which I immediately took advantage of - see my images after the quote):
Open Content, An Idea Whose Time Has Come
James Cuno | August 12, 2013
A New Commitment to Sharing the Getty's Digital Resources Freely with All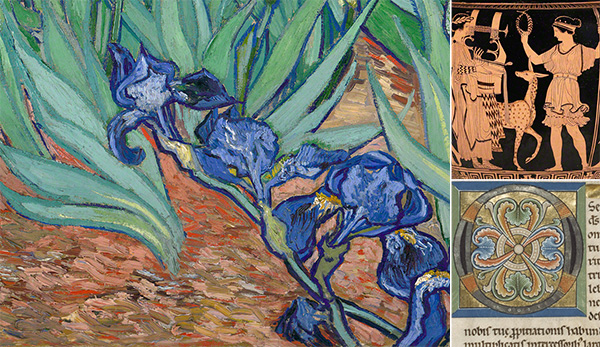 Today the Getty becomes an even more engaged digital citizen, one that shares its collections, research, and knowledge more openly than ever before. We've launched the Open Content Program to share, freely and without restriction, as many of the Getty's digital resources as possible.
The initial focus of the Open Content Program is to make available all images of public domain artworks in the Getty's collections. Today we've taken a first step toward this goal by making roughly 4,600 high-resolution images of the Museum's collection free to use, modify, and publish for any purpose.
These are high-resolution, reproduction-quality images with embedded metadata, some over 100 megabytes in size. You can browse all available images here, or look for individual "download" links on the Getty Museum's collection pages. As part of the download, we'll ask for a very brief description of how you're planning to use the image. We hope to learn that the images will serve a broad range of needs and projects.
We plan to release many more images of works of art in the public domain over time, both from the Museum's collection and from the special collections of the Getty Research Institute. We're conducting a thorough review of copyright and privacy restrictions on our holdings to identify all the images we can make available.
In a future step, we'll look at additional content we can add to the Open Content Program—both other kinds of images, such as documentation from the Getty Conservation Institute's field projects around the world, and knowledge resources, such as digital publications and the Getty Vocabularies.
Why open content? Why now? The Getty was founded on the conviction that understanding art makes the world a better place, and sharing our digital resources is the natural extension of that belief. This move is also an educational imperative. Artists, students, teachers, writers, and countless others rely on artwork images to learn, tell stories, exchange ideas, and feed their own creativity. In its discussion of open content, the most recent Horizon Report, Museum Edition stated that "it is now the mark—and social responsibility—of world-class institutions to develop and share free cultural and educational resources." I agree wholeheartedly.
Forward-thinking organizations such as the Walters Art Museum, the National Gallery of Art, Yale University, the Los Angeles County Museum of Art, and Harvard University have shown how powerful open access to collections and research can be. The Open Content Program represents a new commitment to digital openness in the Getty's work. I look forward to adding more resources over the coming months and years—and even more, I look forward to seeing what open content will inspire you to create and share.
Questions about the new Open Content Program? See our Open Content FAQ, leave a comment here, or contact our web team at web@getty.edu.
Tagged digital humanities, digital publishing, open access, Open Content ProgramBookmark the permalink. Post a comment or leave a trackback: Trackback URL.
- See more at: http://blogs.getty.edu/iris/open-content-an-idea-whose-time-has-come/#sthash.3pCMxNgy.dpuf
Here's a random image I retrieved using the link given (browse all available images here),
which was a Eugène Atget photograph from 1915-19. I did some initial
processing using Photoshop, and then imbedded the result into a recent
photo of mine - all legal, and no permissions required!
Digital image courtesy of the Getty's Open Content Program:
.
Eugène Atget, photographer (French, 1857 - 1927)
Pool, Saint-Cloud
, 1915 - 1919, Albumen silver print
Image: 18.3 x 21.8 cm (7 3/16 x 8 9/16 in.)

The J. Paul Getty Museum, Los Angeles
.
.
.


My first transformation.


.
.


My second transformation.


.